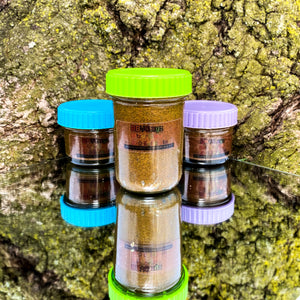 Ultra- Glow 360 Exfoliator
DETAILS: 
 DEEP EXFOLIATOR. FIRMS SKIN. RELEASES AND PREVENTS INGROWN HAIRS. EVENS SKIN TONE. EXTREME SOFTNESS. REDUCE CELLULITE. BLENDED WITH RAW BUTTERS AND OILS. DIMINISH STRECH MARKS. MOISTURIZING. 

ALL NATURAL-ORGANIC- VEGAN fragrance + paraben free
Multi usage for every body, face and scalp. Use twice a week or as needed. For men, this product is great for ingrown beard hairs on face and neck.
Ultra-Glow 360 Exfoliator is butter based giving it its creamy texture- it hydrates as it gets rid of old dead skin cells. Coffee and Brown sugar band together to bring you an extreme glow of softness
Benefits: 
 Arabic coffee- Scrapes away dead skin cells. Fights cellulite and acne. Caffeine acid boosts collagen levels and reduce premature aging. Stimulates blood flow, naturally tightens skin. Contains antioxidants that help protect against UV rays.

Brown sugar- its a source of glycolic acid which is the smallest alpha-hydroxy acid making is easy to penetrate skin and promote new cell growth. Its a natural humectant so it draws in moistures from your environment keeping it soft. It removes scars and provides a radiant glow to the skin.

Wheat flour- protects against sun damage. includes vitamin E + zinc which will give a healthy glow. Contains selenium that acts as a natural anti- aging agent. It promotes elasticity and removes toxins that cause acne
In love
One of the few brands I can use on my sensitive skin !! My GO TO 💙