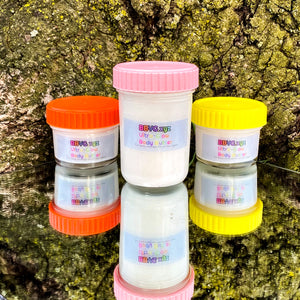 Ultra-Glow Body Butter
DETAILS
 RAW BUTTERS AND OILS COMBINED. FOR DRY SKIN. SOFTENS TEXTURE. HYDRATES SKIN. ABSORBS FAST. FADES SCARS/STRECH MARKS. IMPROVE SKIN ELASTICITY. HEALS SKIN. HEAVENLY SCENT.
ALL NATURAL-ORGANIC-VEGAN paraben free 

Everyday multi-usage for every face, body, hands, feet, even hair! Men, you don't have to be shy... or ashy! join the glow party 
Ultra-Glow Body Butter is full of all natural enriching elements that get deep into skin and absorb quickly with no oily mess. It soothes and conditions the body leaving a heavenly scent. 
Benefits:
 SHEA BUTTER- is high in fatty acids and vitamins make it ideal for softening skin. Also contains  anti-inflammatory & soothing properties 

MANGO BUTTER- high concentration of nutrients and vitamins which help increase youthful appearance. treats irritations.

HIBISCUS- high amount of vitamin A, B and C. its proteolytic enzymes have anti- bacterial, anti- fugal properties. Rich in antioxidants which improve elasticity.
Best body butter ever
This is seriously a 10/10 product! The only thing thats ever gotten rid of my eczema issues and doemsent leave me feeling greasey or oily at all, its light and soft and extremely soothing! you definitely cant go wrong buying this
feels and looks really good on skin