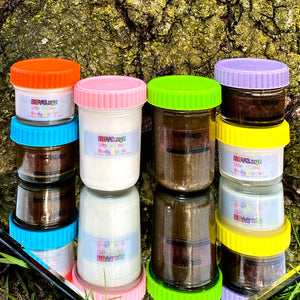 Ultra-Glow Soft Skin Set
Discover the perfect harmony of rejuvenation and nourishment. 
Together, this duo creates a lavish spa-like experience in the comfort of your home. Our Ultra-Glow 360 Exfoliator primes your skin, allowing our Body Butter's potent blend to absorb deeply, leaving you with skin that's not just pampered but truly revitalized! Embrace this luxurious pairing, and treat yourself to a transformative skincare ritual that unveils your skin's natural beauty! 
Ultra Glow is the perfect name for this set!
Better than I could have imagined! The ultra glow exfoliator smells so good, but doesn't leave your skin smelling like coffee, which I love. My skin was noticeably brighter after just one use. Gentle enough to use on your face as well. The body butter has a thick consistency to it which is nice, but applying it is easy and once on your skin, it instantly smooths, softens, and adds an extra layer of glow to your skin, literally! Amazing products that I would recommend to anyone
Absolute Skin Love
I absolutely loved this product set!! The Coffee Scrub: It's true that it hydrates as it scrubs, even before washing it off you can begin to feel the deep moisturizing effect. A little goes a long way! The Body Butter: amazing follow up for the scrub. Thick, yet completely melts into your skin as you apply, this is my new favorite body treat.
I am in love!!! 💕
Great on sensitive skin!
I like! I like it a lot. I thought I'd be itching by now because my skin is so sensitive, but nope. Thanks again! Love you much ❤️